Return to a simpler time. Encounter something new.
Under new ownership, Seascape has been lovingly renovated to both continue its legacy and add new features for guests of all ages to begin new traditions together.
Our cottages and motel rooms offer a peaceful escape from the hustle and bustle of everyday life, nestled amidst the natural beauty of the Maine coast.
At Seascape, we believe in creating a space where guests can experience the simple pleasures of vacation. Wake up to the soothing sounds of nature,
breathe in the fresh sea air, and explore nearby beaches, forests, and towns seemingly preserved in time. Our location provides easy access to all that the Maine coast has to offer.
Our friendly staff is dedicated to providing personalized service. Our accommodations are designed with your relaxation in mind, featuring all the amenities you need to unwind and create cherished memories with loved ones.
Wherever you are in your journey, join us for a new beginning at Seascape.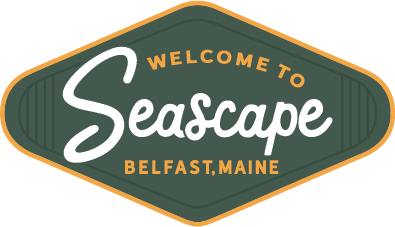 the genuine moments, unique features, and thoughtful details that make your stay memorable


A Heated Outdoor Escape: Immerse yourself in the warm embrace of our resort-like heated outdoor pool and hot tub, a rare combination found in only 4% of properties along the midcoast.



Fireside Gatherings: Gather around the fire pits and connect with fellow travelers, sharing stories under starry skies



Playtime on the Lawn: Delight in yard games on our spacious grassy area, with cornhole and vintage badminton.



Nature's Haven: Right next to the property, discover Fristad: 100 acres of expansive, well-marked walking trails



Thoughtful Simplicity through Design: Experience a high level of detail and intention woven into every guest space.


The True Sound of Vinyl: Step into nostalgia with record players in every cottage (or borrow one for your motel room), and enjoy the tangible charm and high-fidelity of vinyl records, with any of over 750 titles to borrow from the guest reception area.



Uncompromising Cleanliness: Embrace the peace of mind that comes from our unwavering commitment to cleanliness. Our meticulous standards ensure that every guest space is meticulously maintained.



Professional Hospitality: You will feel the genuine warmth of our attentive guest service, where we understand that every interaction matters. Our dedicated staff ensures that your stay is not just a visit but a cherished memory. We anticipate needs, and when something isn't right, we will make every possible effort to fix it.
Choose your stay
Seascape features seven motel rooms and eight cottages set on five acres of parklike grounds, with lawn surrounded by trees and with views of the sea.
Seascape is just three miles from vibrant downtown Belfast and its pretty harbor, with its walking bridge, restaurants, brewery, and specialty shops.
Jewel-boxes of thoughtful design.
Simple, classic. The motel evokes memories of travel from your youth, but updated for the discerning traveler. A perfect stopover if you are going to or coming back from Acadia.
Our seven charming motel rooms offer cozy, lovingly-considered spaces. Each room has been renovated and features a queen bed with new mattress and bedding, coffee maker, refrigerator, and fold-down wall-mounted table with dining chairs.
Your coastal vacation cottage, with all the comforts of home.
Perfect for longer stays, the cottages have everything you need to settle in and relax or as a home base to explore the coast. We offer a range of beds, bathrooms, and living spaces for families or just for couples who need more room. Our two largest cottages include separate living rooms with pullout sofas.
Each cottage has been renovated, from paint and decor to bedding and window shades. All cottages have full kitchens, including stove, microwave, pots and pans, utensils, dishes and glassware.
And each cottage features its own private deck, for you to slow down, relax, and reflect with a glass of wine–or a bottle–and experience Penobscot Bay at sunset.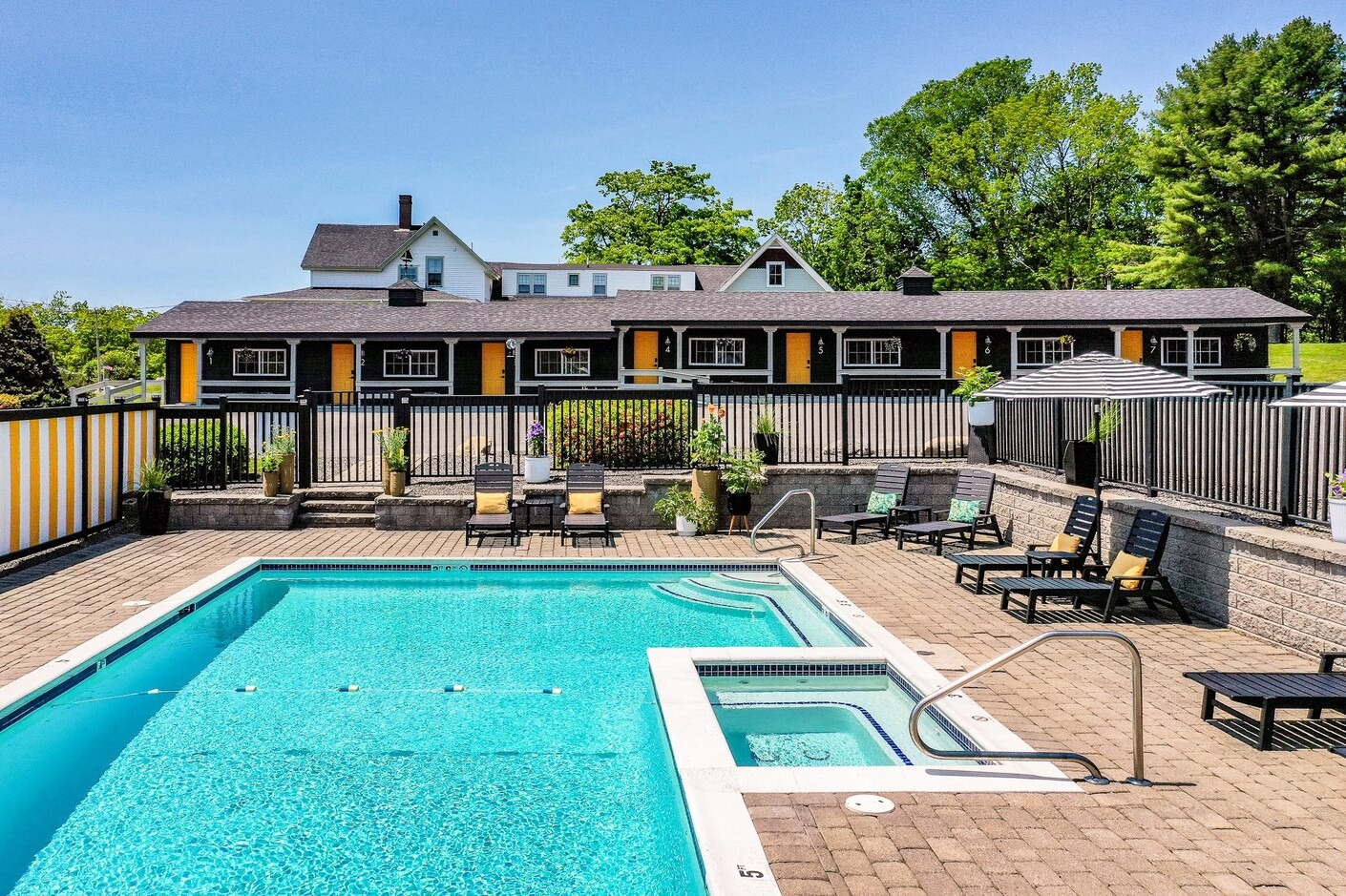 Woodland trails, campfires, and a heated outdoor pool. All right outside your door.
Savor the natural beauty of a walk in our woods or right next to the property, on the neighboring Fristad Trails, a sanctuary of nearly 100 acres of beautiful, well-marked walking trails with little elevation change.
Gather at the fire pits on crisp evenings, making s'mores with new friends under starry skies.
Renew your spirit by the central heated pool and hot tub, cooled by the coastal breeze.
Even the lobby is a treat.
Stop in to the small market, stocked with a curated assortment of organic snacks, including gluten-and-dairy free selections. We have everything you need to make the best s'more you have ever had, from dark chocolate to vegan marshmallows. We also have items for a quick breakfast.
On warmer days, you'll discover the ice cream case full of natually delicious treats.
In the market, you'll also find Seascape merchandise, including mugs, T-shirts, and hoodies.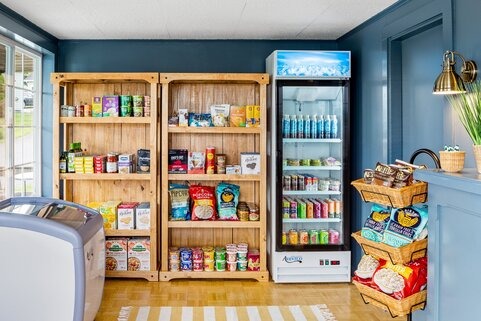 Motel Rooms (#1 through #7)
Studio King Cottages – #8 and #9
Studio Double Cottages – #14 and #15
Duplex Double Cottage and Duplex King Cottage – #10 and #11
One-Bedroom Cottage – #12
Two-Bedroom Cottage – #16